Welcome the Erie County Historical Federation Website
The Erie County Historical Federation was created in 1972 to assist historical societies in the Erie County area, to document, preserve, and educate the public on local history. We would like to thank the original founders of the organization that met in Cheektowaga in 1972 for their work in bringing Erie County Historical Societies together; Julia Boyer Reinstein, Mildred Canfield Roehling, Willard Dittmar, Charles A. Neumann, Sherwood Sipprell, John Printy, Lillian Geiger, Henrietta Henskee and Walter Dunn.

IN THE NEWS...


Elma Historical Society Cuts Ribbon for Grist Mill Wheel Assembly and Shelter.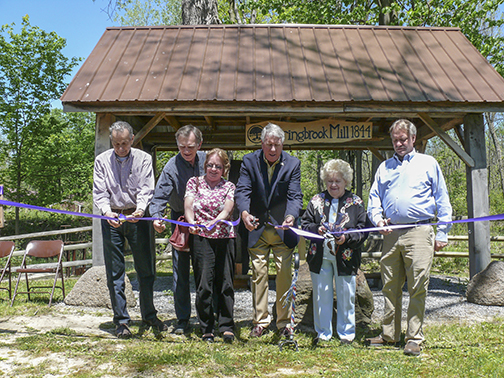 Pictured are from L-R: Frank Maciejewski, Town Historian; Rory Brake; Mary McIntosh; Dennis Powers, Town of Elma Supervisor; Marlene Baumgartner, Historical Society President; and Tracy Petrocy, Elma Town Councilman.

The Elma Historical Society, on Saturday May 20th, cut the ribbon to formally open the display shelter which houses an 1800's power gear. Its Purpose was to transmit power from water wheels to grist stones and/or saws.

Around the turn of the 20th century, this mill component was used in the operation of a gristmill in the Town of Elma, New York. With the gear assembly standing vertically, horses were harnessed to it, and walking in a circle generated the power needed to turn the grist stone to grind grain. In 2012 the gear assembly, the only known remnant of the Spring Brook Mill, was donated to the Historical Society by Rory Brake and Mary McIntosh.
An Ice Cream Social followed the Ribbon Cutting.